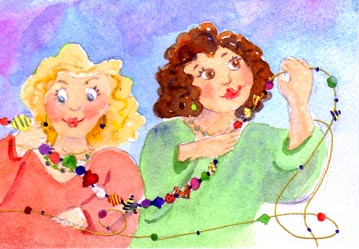 Gina Hagen, artist
Praised for conveying a feeling of love for the settings, Gina's watercolors are held in numerous private collections throughout the United States, Europe, South Africa, and Japan. Gina has had many exhibits and her watercolors have been represented by the Winfisky Gallery (Salem, MA), the Peabody Art Association (Peabody, MA), the George Peabody Library (Peabody, MA), Bodin Fine Art Gallery (Gloucester, MA), Deja Vu (Ogunquit, ME), and BGH Gallery (Santa Monica, CA), Peabody City Hall (Peabody, MA) and the Mary Gallery (South Easton, MA).

After having received her Bachelor's Degree in Art and Design, Gina studied extensively with American Watercolor Society artist Martin Ahearn in addition to numerous other watercolor artists. Painting has taken her from the shores of New England to Ireland, England, and Italy. Having completed numerous commissions, her work has also been exhibited in Europe, Los Angeles, and throughout New England.

Cards and prints of her painting of Norman Rockwell's Studio are sold exclusively at the Norman Rockwell Museum in Stockbridge, MA. Cards and prints of Boston scenes are also being sold at several locations in the Boston area. Her watercolors have also appeared on more than ten textbook covers.
Marylou Hagen, jewelry designer
Marylou has been noted as being the "eye behind the color" in the Hagen Gallery jewelry creations. She is also a fabulous musician and inspirational piano teacher. Her other interests include attending symphony concerts, making counted cross stitch, and watching baseball!
Together ...
Gina and her mom Marylou have spent endless hours making jewelry. Collaborating is the most exciting part of the creative process.